Vehicle Anti Theft System (VATS) Westlake Village 1-805-522-6111
A vehicle anti theft system, or VATS, is a method or device to lower chances of a break in or theft. While there is no guarantee your car will never be broken into, there are ways you can keep your vehicle safe. Most cars already come equipped with an anti theft system but might not always be as effective as other methods. To start off, you will want to decide which system is best for your particular make and model vehicle.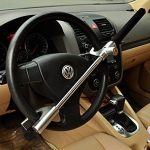 Steering-Wheel Lock:
Also known as "the club", this is the most standard type of security for your vehicle. The device goes directly on the steering wheel and locks it in place until the key holder removes the lock.
Mechanical Immobilizer:
Immobilizers are designed to prevent the vehicle from starting up unless the correct transponder key is present. This effectively stops car thieves from hot wiring vehicles.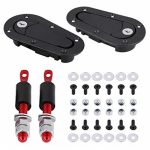 Hood Lock:
This small lock will block access to the hood of the car, making it hard for thieves to remove the battery and sell off parts of the engine.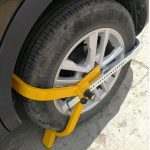 Tire Lock:
This is one of the most noticeable locks, and also one of the most difficult to take off. Consequently, it might not be your number one choice if you're a daily driver, since it does take some time to put on and take off.
Gearshift Lock:
A small lock that goes over the gearshift. It is effective in locking the gear in park so that anyone who shouldn't have access to your vehicle will not be able to put the car in drive.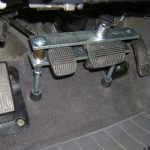 Brake pedal lock:                                                     
This type of lock is placed over brake pedals to stop the brake and gas pedals from being pressed. The idea is that, by not being able to use the pedals, the car will be inoperable to thieves.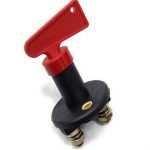 Kill switch:

Finally, the vehicle's owner can hide a switch or button inside the car that will only start the engine if pressed. As such, there are a few common kill switches you might want to consider. One is a fuel line switch that stops fuel from going to the engine. Two, a battery disconnect switch that connects to your battery and won't start unless the hidden switch is flipped.
And last but not least, a fuse box switch that can be installed into the fuse box of your vehicle. There are a few more options, but they can be a little trickier to install.
Improve Your Chances
Choosing the best anti-theft device depends on what security you prefer and the type of vehicle you have. In most cases, these devices can eliminate the chances of someone breaking in to your car and stealing your belongings. If you find yourself in these kinds of situations often, it's best you consider obtaining an anti-theft system for your car. It can save you from the trouble if it happens again.
Consider hiring a professional locksmith if you're stuck deciding or are confused on which device would be best for you.