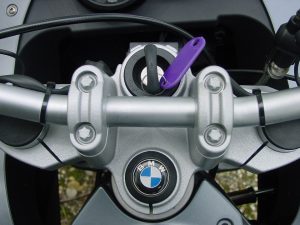 Tips For Your Broken Motorcycle Key
There can be a few different reasons why your ignition for your motorcycle or scooter got stuck. One of the reasons can be the lock cylinder itself, or  that your broken motorcycle key is worn out and is preventing your ignition from turning.
We always recommend that before you try to repair your ignition lock, you make a new key by your motorcycle or scooter key code. Making a new key by your key code will normally be cheaper than trying to repair the lock itself. If that doesn't work, of course we can always replace, repair, or re-key your ignition lock.
Know Your Motorcycle
All motorcycles require keys, which is why when you have broken or lost your motorcycle key, you will need the help of a professional locksmith in Westlake Village who can make a new key for you right away. Gizmo Locksmith Westlake Village offers a wide range of motorcycle locksmith services. By keeping our contact number handy, you can rest assured our customer service team will send the right locksmith to your location right away and expect them to arrive in just about 20 minutes or less.
Our fully licensed, bonded and insured emergency locksmiths in Westlake Village will make the new key for your motorcycle on the spot so you can get back on your bike and continue riding. Unless you have a remote starter installed, starting your motorcycle needs a key whether you own a new Kawasaki or a used, 50 year old Harley.
We'll Make Your New Keys On The Spot
Whether you have a double sided or single sided key, our highly experienced locksmiths have you covered and can make your new key on the spot. From break locks, to gas cap keys and even seat lock keys, our motorcycle locksmiths can supply you the key you need so you can get back on your motorcycle.
On Location Service
Since we operate in a mobile fashion, our professional locksmiths are easily able to get to your location and perform the locksmith service needed to be done right there on the spot. Therefore, if your motorcycle key broke or got stuck inside the ignition, call our motorcycle locksmith right away. We have the right specialized tools to take out the broken piece without causing any damage to your motorcycle.
We Carry Broken Motorcycle Key Replacements
In case we need to replace the entire ignition of your motorcycle in order to get it up and running again, our professional locksmiths carry high quality replacement ignitions in stock as well. We can also provide duplicate keys on the spot at a very affordable and reasonable price. If you just bought your motorcycle, it is recommended to get the ignition as well as the other locks rekeyed in order to make sure that you are the only one who can use your bike. In most cases, our highly trained and experienced locksmiths can easily rekey the locks and give you a new key. Even in rare instances where we need to change the entire ignition or lock system, our guys can do it without causing any damage to your motorcycle.
Motorcycles We Assist
Honda Motorcycles
Kawasaki
Yamaha
Suzuki Motorcycles
Polaris
Victory Motorcycles
Aprilia Motorcycles
BMW
Ducati
Indian Motorcycles
Vespa, Scooters and more
Our Motorcycle Locksmith Services Include:
Broken Motorcycle Key Replacement
Lock repair
Key cutting
Extraction of broken motorcycle key (lock or ignition)
Key duplication
Lock Rekey
Extraction of broken lock key
Broken ignition key extraction
Repair or replace ignition
Gas cap locks
Seat locks repaired/Unlocked
Unlock motorcycle disc brake locks
Reliable Motorcycle Locksmith Services
We can make you a new key for your motorcycle's gas cap. If you lost the key to the ignition, many motorcycles will share the same key to the ignition lock and the gas cap. In many cases, it is easier to make a new key to the ignition lock by unlocking the gas cap, disassembling it and getting the key information from there. If for some reason you have to get new locks and want them to all use the same key, we can change the biting within the lock so that one key works for them all. Having to use two different keys can be a problem especially if you leave the second key at home. Gizmo Locksmith can rekey your motorcycle ignition, helmet lock, gas cap or fork lock so that one key will work on all of them.
Emergency Motorcycle Locksmith Services
It doesn't matter if somebody stole your keys or you simply lost them, our professional locksmiths can replace/re-key them for you. Additionally, whether the motorcycle Lock is broken, damaged or jammed, Gizmo Locksmith Westlake Village can assist you with motorcycle lock repair. Over the past couple years, we have received a few phone calls where customers were complaining about the dealer charging 1400$-2500$ to replace transponder keys for motorcycles.  Apparently, the way they replace them is by replacing the computer.  Why let it get to that.  We are able to clone the majority of broken motorcycle keys on the market today.  Although most American motorcycles don't have transponder systems, here is a list of the ones that do:  Some Honda's- mainly Gold Wing, Ducati- for sure, Vespa- a lot of newer ATVs, and so on.  If you're not sure, you can call us at 1(805) 297-1254 or contact your Dealership for more info.
Our opening methods are specially designed to ensure that we can open your saddlebags or storage compartments. As we are a locksmith company, we are able to pick open storage locks and not use destructive methods.
A Mobile Locksmith Service
Gizmo Locksmith gives you the convenience of bringing our locksmith services to you. Whether you use your motorbike to go to work daily or you ride it for fun during the weekend. When you break or lose your motorcycle key, it can be very inconvenient. Indeed, you would be lucky to have a spare key. However, there's no cause of alarm even if you don't. At Gizmo Locksmith, we are able to make you another working replacement in close to no time. Just call us and we will arrive at your place of work, home or wherever you're stuck at within minutes. Our superbly skilled mobile motorcycle locksmiths are capable of producing motorcycle key cutting, whether (or not) you have the original bike key in hand. Additionally, we have the technology and tools to use the manufacturer's code to skillfully build a new functional key.
Expert Broken Motorcycle Key Repair
At Gizmo Locksmith Westlake Village, we understand that it is almost impossible to plan for when you would need a motorcycle locksmith service. For this reason, we have now made our motorcycle locksmith solutions available 24 hours a day, 7 days a week. Feel free to call us at any time as our professional locksmiths are readily available to come help you out. Whether you call us during the day, at night, or during holidays and weekends. At your time of need, you can count on us. Feel free to contact us anytime at 1(805) 297-1254. Rest assured, we are just a phone call away from resolving any motorcycle key issues you may experience.